This is a Review of the Excellent Book by John and Julie Gottman and Doug and Rachel Abrams, called, "Eight Dates, Essential Conversations for a Lifetime of Love". The book aims to help many types of couples, those married recently, for a long time, those considering a partnership and those who are living together. The authors crafted exact templates for talking about what research has found to be the 8 essential topics for a joyful and fulfilling relationship that stands the test of time. Like most relationship experts, including me, we advocate regular date nights. This book looks at how you can have meaningful conversations on date nights that are aimed at drawing you closer together.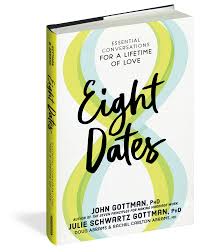 I hear lots of complaints in my private practice regarding the feeling of couples slipping into the roommate mode where conversations are just about bills and kids. This book really helps you to go deeper and have more satisfying conversations which help you to keep your relationship fresh and emotionally intimate. The Date topics covered are; Trust and Commitment, Addressing Conflict, Sex and Intimacy, Work and Money, Family, Fun and Adventure, Growth and Spirituality, and Dreams.
The book begins with giving you some guidance on skills for making a success at this dating adventure, including words for deep conversations with your mate and how to listen well. Each subject gives you some information on why this subject is important and gives you a small teaching. There may also be surveys that you answer that help you to decide where you are now. Then at the end of each topic section, the book gives you a blueprint of the "how" you can have a great conversation on the topic. How great is that!
The book facilitates your creativity in both dates away from home with great suggestions for inexpensive or free dates as well as those that are not. It also helps you to have successful date nights at home. I like the way the book is laid out in that it gives you a summary at the end of each topic which can continue to stimulate your thinking. I recommend this lovely skinny little book wholeheartedly!
Go forth and Be Wonderful!