I see lots of mismatches in emotional attunement between partners in my practice. Without understanding, this mismatch can really get in the way of creating a secure attachment relationship together. Many partnerships have one partner that is intolerant of negative emotions or is emotion dismissive. When their partner is upset, they can feel impatient and want their partner to "get over it". They may offer constructive criticism or a well meaning fix it solution when their partner has a negative emotion about a life event. They would prefer that their partner put on a happy face or lighten up.  If this is you and you were brought up in a household that could not manage negative emotions, it is difficult to change this way of being. However, the rewards of making a change in this area of your relationship are great. Some of the benefits are greater connection and intimacy, your partner does not have to escalate their emotions to get noticed (did your partner ever say to you – I feel like I could die and you would not pay attention to me?), you would come to know your partner more deeply, providing the opportunity to love more deeply, you would create an opportunity to problem solve as a team, and many more benefits. So how do you make this change?
1. Practice noticing a change in emotion for you and your partner.
2. Approach your partner with an attitude of curiosity. I notice a change in you – Is something going on for you?
3. Listen for understanding only. What does this emotion indicate for your partner? Why is it there and what does it mean for them?
4. Reflect the emotions you hear and the reason for them to your partner. What if you are wrong about the emotion you reflect? Your partner will be able to correct you, thereby helping you and them to understand what is going on for them. Keep reflecting until your partner feels fully understood. You will find their emotional intensity lowers as they feel more understood by you.
5. If the issue is about the relationship, ask your partner to tell you what they need from you (in positive terms). Continue to listen non defensively and with understanding. If the issue is something outside of the relationship, your partner may want you to help them problem solve the issue or they may not. Perhaps understanding was exactly what they needed. Do not attempt to problem solve unless your partner asks for it. Don't even let it sneak in!
Find a way to have your styles fit together and work towards a more secure attachment. This        effort is hugely worth it and you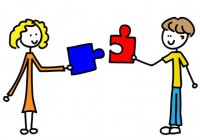 can take this skill with you to connect with
your kids and your coworkers, when appropriate.
Practice it this week. Keep practicing!
Go forth and be wonderful!