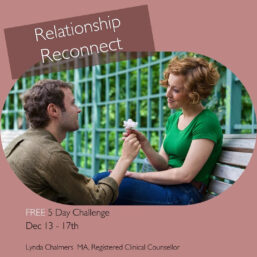 Relationship Reconnect FREE 5 Day Challenge DEC 13th – 17th I really encourage everyone to register to gain some tips on reconnecting with your partner.
If you're feeling like the passion or the playfulness is gone out of the relationship, or maybe there is even an invisible wall between you? These 5 days will change you & your relationship!
Remembering the good times you have forgotten and recreating the playfulness will create that starting point of life-giving zest you are looking for.
The time commitment is only 5 – 10 min per day plus the all-important fast and easy action step of the day – all recorded so you can watch on your own time.
This challenge encourages you to do something small, every single day making it 𝗲𝗮𝘀𝘆 to stay accountable. Take a step towards your goal in small, clear and easy-to-implement steps that get you closer to the result you want – a better connection with your partner!